Product Description
74853/4465. Aeroshell Grease #33MS (14 oz tube) Discontinued superceded by AeroShell 64
Universal Airframe Grease. Lithium complex thickened, synthetic hydrocarbon/ester oil base containing Molybdenum Disulfide. Developed with the purpose of satisfying almost all airframe lubrication requirements with a single grease. Its enhanced corrosion resistance and load-carrying capacity reduces wear and tear and can lead to extension of re-greasing intervals and reduction in maintenance costs. Replacing several greases with a single grease avoids the risk of misapplication and also reduces stock inventory, again providing cost savings. Useful temperature range is -73°C to +121°C. MS-G-21164D
Check out our selection of other AeroShell Grease in stock at SkySupplyUSA.
Check out our selection of Grease Guns
(This product is superceded by AeroShell Grease #64) Click Here for AeroShell 64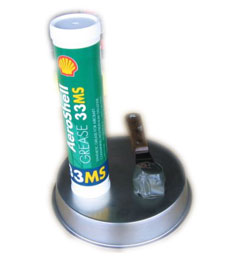 Click Here For Aeroshell #33MS TDS:
Find Similar Products by Tag
Product Reviews
will buy from this site again

Posted by Unknown on 30th Apr 2015

Received this product SUPER FAST!! Couldn't find in stock anywhere else for the price and amount. I only needed about half of the amount, but it's always good to have extra... I give it two thumbs up..

Excellent product.

Posted by Geoff on 16th Mar 2015

Great grease for what I needed. Only downside is I wish it was offered in smaller quantities. That in it's self no big deal.

great product

Posted by Unknown on 27th Jul 2014

quick shipping, secured packaged and works on my assemblies better than any other product

If you research a bit you'll Find that MS33 is the Best

Posted by Robert Atkinson on 22nd Jul 2014

This is purported to be the best grease you can buy, I think mainly because it has a high 5% of moly. I figure its good enough for the US Military, its good enough for me. My own personal experience is limited to noting that this stuff does seem slippery! I use it not for airplanes but for motorcycles. I have one moto that is notorious for breaking clutch cables. The only answer seems to be constant and copious lubrication. Time will tell if using MS33 will prevent breaks over other lesser moly grease. Sky Supply had the best price, and I received it very quickly. Thanks!

Aeroshell Grease #33MS

Posted by Unknown on 3rd Jun 2014

Got what I wanted and very quickly

Great for AR upper assembly

Posted by Unknown on 3rd Mar 2014

I use this to assembly my AR15 upper receiver barrel to receiver and it works great. Sky supply ships this in a practically indestructible package.

AeroShell 33MS

Posted by Keith on 14th Dec 2013

Great high pressure grease. Shipped fast at reasonable cost, and packaged very well. Couldn't ask for more.

Exactly what I needed

Posted by Ben on 15th Nov 2013

Chose Mil-Spec grease because that's what I need. Shipped in 100% safe packaging.

Excellent

Posted by Unknown on 2nd Sep 2013

I used this product with ease and find its the best for most metals if not all

Good MS grease with no graphite

Posted by Unknown on 4th Aug 2012

Used it to assemble steel barrel nut to aluminum upper assembly for an AR-15. mil-spec grease that is recommended by the military for this task. Good shipping, came in a big box with good packing so tube didn't get crushed.